ZENER DIODE TESTER Circuit
This circuit will test zener diodes up to 56v. See Talking Electronics website, left index, 200 Transistor Circuits (circuits 1-100) and go to Zener Diode (making) to see how to make a zener diode and how to create a zener voltage from a combination of zeners.
Place the zener across the terminals in the circuit below and read the value across it with a multimeter set to 50v range.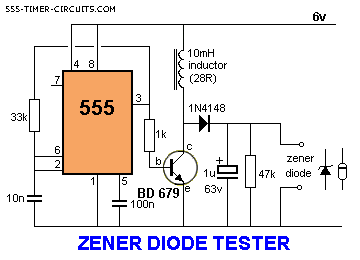 Comment on this circuit
or view the
Electronic Circuits Community Forum
.