Hulda Clark's Zapper Circuit
This is the circuit for Dr. Hulda Clark's Zapper, designed in 2003. The frequency is approximately 30kHz positive offset square wave. It has a red LED light that lights up when the unit is on. Perfect for regular zapping, extended zapping and other Hulda Clark related experiments.
This device is used tocure, treat and prevent any disease. It will cure anything. Simply hold the two probes (one in each hand) for 5-10 minutes then rest for 20 minutes, then repeat two more times. Do this each day and you will be cured. Here is her website:
ClarkTestimonials.com
Hundreds of people have been cured of everything from herpes to AIDS.
On the other side of the coin is the claim that Dr Hulda Clark is a complete quack. Here is a website called:
Quackwatch
. The second diagram shows the two copper tubes and the circuit in a plastic box. I am still at a loss to see how any energy can transfer from this quack machine, through the skin (50k skin resistance and 9v supply) and zap a bug in your intestine. It's a bit like saying I will kill all the mice in a haystack by stabbing the stack with a needle.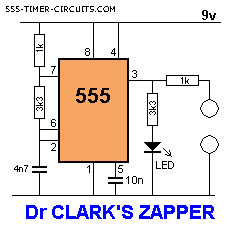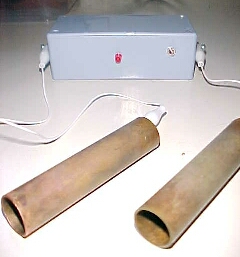 Comment on this circuit
or view the
Electronic Circuits Community Forum
.