THE FASTEST 555 OSCILLATOR Circuit
The highest frequency can be obtained by connecting the output to pins 2 and 6. This arrangement takes about 5mA and produces an output as shown: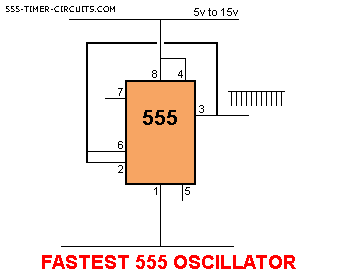 View the output on a CRO. Our 555 "Test Chip" produced a frequency of 300kHz at 5v and 12v. (CMOS versions will operate at a higher frequency.) Note the very short LOW TIME.
Comment on this circuit
or view the
Electronic Circuits Community Forum
.